Woodworking was definitely my passion well before I got into the world of Ham Radio.  My dad taught me small projects as a child and I have grown in the hobby into my adult years.  What I did not expect was how well the two hobbies would integrate and how popular woodworking would be within the ham community.
All of these projects are custom projects and were designed for a specific purpose/operator.  With that being said, these are fully customizable for any operator or situation.  It is all hand made and finished by myself in my workshop.  I have collected many tools and skills over the years that allow me to turn out top notch quality items.  These are NOT done on a CNC or other computer operated equipment.
I do not have a store online yet but if you see something that you want, let me know and I'll get you a quote!  I'll also be at the Kennehoochee Ham Fest 2014 with my own booth!
These are a couple of antenna tower plaques that I have made for several operators.  I've only done them in Popular and Dark Walnut but they are available in most all species.  Even the 2×3 call signs fit very well in the space provided.  I even make sure the zeros include the slashes!  It's all about the details!
 These were the first call sign plaques that I did.  They are available in the different woods as well as many colors when painted.  They look great around the ham shack.  I have mine just under my monitor!



This is a new concept that I am playing around with.  It's pretty intricate scroll saw fretwork.  I'm thinking about including some text above and below the current design that may include "Ham Shack" above and then your call sign below.  People have mentioned about using an opaque covering on the back for use with a light, natural or otherwise.  I've also thought about using the design as matte and then framing the project.  Possibilities are endless.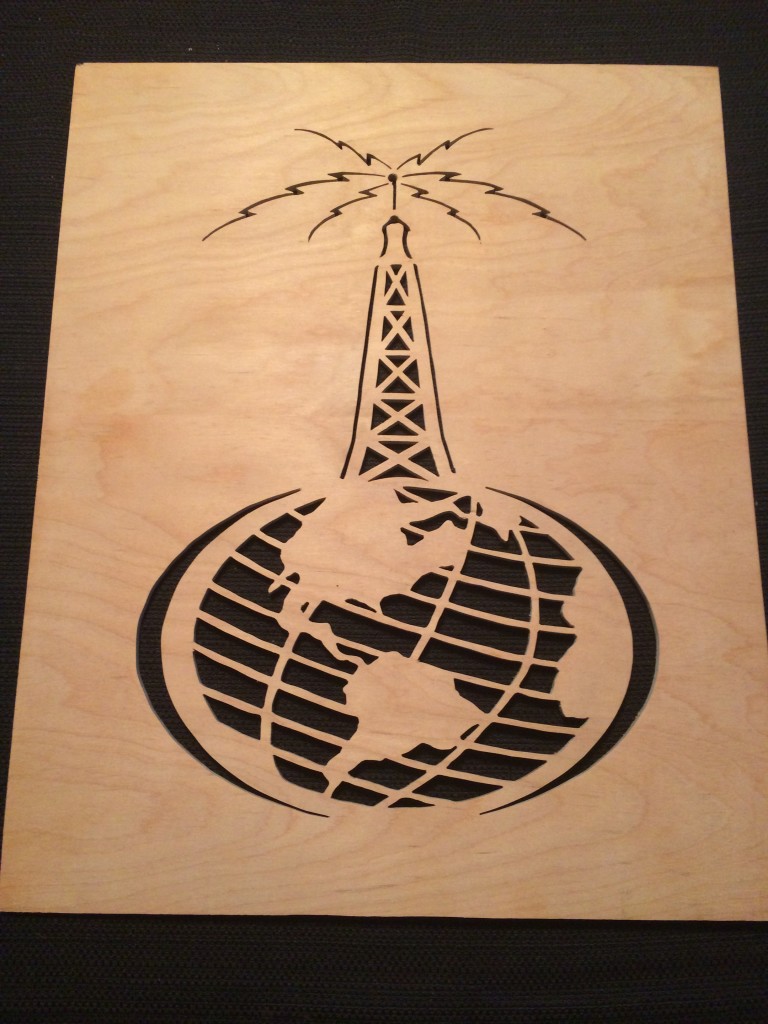 Below is the mobile console that is currently in my truck.  You'll find the full story of this box under my projects.  As functional as it is, it's still just another woodworking project that I adapted for ham radio!  I've already built similar consoles for 2 other operators for their specific vehicles and radio setup.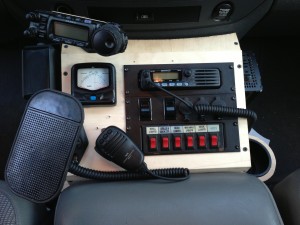 I changed the power/SWR meter in the pic below.  I liked the LDG better and it has more options when connecting it to the 857.  I also added the volt/amp meter that turned out to be a great addition.  You can see the remote mount on the pedestal on the right for my new IC-880H.  I also did away with the non skid phone older and am currently trying another solution.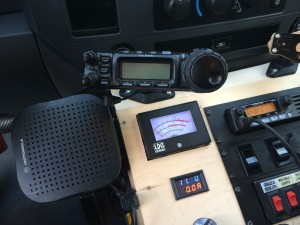 The nuts and bolts portion of this project is under the box.  I use Anderson power-pole connections for just about every element inside the box, including the main power source coming straight from the battery.  Depending on the needs of the operator, I use different size rig runners to supply power to the individual equipment.  This allows for easy installation and removal at any time and individually protects  each connection with it's own fuse.  (If you blow a fuse for a lighter plug, your radio is still operational)
Getting even more creative, obtaining a secondary power source that is active with the ignition switch, relays can be used to turn certain radios, back lights and/or 12v outlets on and off with the key.
This is another box that I did for a fellow ham radio operator.  He chose to mount his GPS on the side of the box with 12v outlets for his accessories.  The remote heads were mounted directly on the box as opposed to a pedestal.  He has since installed an FT 8900 just above the FT 8800 shown here.  And he still has room for others.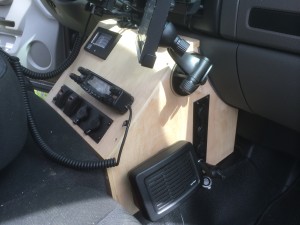 This feed-through panel is also explained in more detail in my projects page.  The panel was bought used and simply remounted for my window size.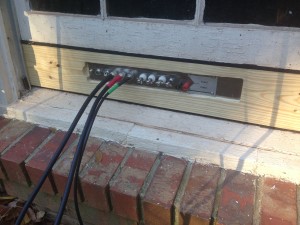 I had possible moisture exposure that may have gotten into the barrel connectors.   I replaced the barrel connectors and sealed the connections with coax seal.  I form fitted a piece of aluminum  to shield any rain or snow from the connections.  Probably not required but I feel better about it.